Nios Tma Assignment Solved Handwritten File Class 10th & 12th
Download Nios Tma Assignment Solved Handwritten File From Here & Upload at your student dashboard Online. Let's See How –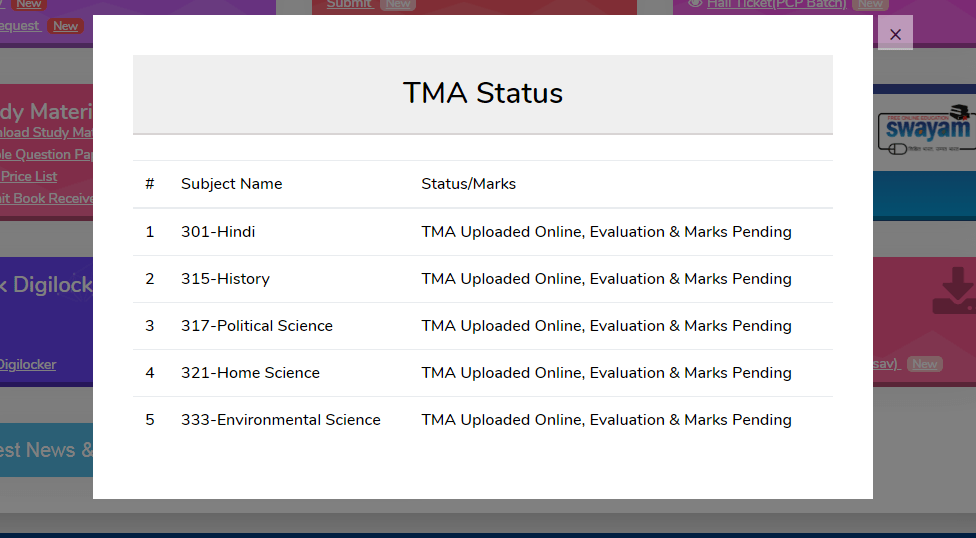 How to Download Nios Handwritten Assignment File in Pdf
First visit our website (Click Here)
Go to Nios Handwritten TMA Category (As per Your Requirement)
Choose your Class (10th or 12th)
Select your subject/Subject code & Medium (Hindi/English)
Click to "ADD TO CARD" then continue
Check out From Blue Bag
Fill your order form and then complete payment (please Enter Correct Address)
After Payment You will received confirmation message in email and Also Handmade TMA pdf.
How To Upload Nios Assignment File Online For 10th & 12th Class.
Best Solution How To Upload NIOS TMA Assignment File Online
Steps

for Upload NIOS Tutor Marked Assignments (TMA) Assignment PDF Online:–
1 – Uploading of TMA will be available only as per the TMA uploading schedule mentioned by NIOS for each session.
2 – Submitting/Uploading TMA is applicable only for the learners/students of Stream 1
3 – TMA(s) can be uploaded only for the subject for which the learner/student is registered in NIOS. TMA(s) of subjects selected for Transfer of Credit (ToC) can't be uploaded.
4 – Once the due date for submitting/uploading TMA is over, Learner/student will be able to upload the TMA only after paying the TMA late fee online through the Student Portal.
5 – Before uploading the TMA, please ensure that the correct TMA is selected for upload. TMA once submitted cannot be submitted/uploaded again.
6 – TMA status can be seen from the TMA Status on TMA Tile on the Student Dashboard
7 – There are four steps in the process of uploading the TMA(s):
How Get Best Books for Examination Preparation
NIOS BOOKS – Nios Guide Books | Nios Sample Papers | Nios Last Time Revision Books | Nios Practical Manual Notes | Nios Online Solved Assignments | Nios Model Test Papers etc. visit Our website – https://www.pkkapri.com/
Step-I – Download TMA(s)1
I – Prepare hand written TMA(s) with marking each page with page number
II – Scan the hand written TMA(s) into .PDF for each subject separately
IV – Upload the TMA(s) saved into .PDF file
Any Confusion WhatsApp or Call Us on – 9643289714