Nios Assignment Answer

2023-2024

Tutor Marked Assignment (TMA)

| Class 10th & 12th Hindi/English Medium |

100% quality Assured

Latest 

NIOS TMAs (Tutor Marked Assignments) Solution
Are you worry about how to make NIOS Assignment Answer to Get maximum mark? If Yes, Here we solved your problem. You will find nios solved assignments & exam preparation books to avail GOOD Marks in Your Mark-Sheet. Buy Nios Sample Papers | Nios Guide Books | Nios Model Test Papers | Nios Practical Lab Manual Notes | Online Nios Assignment Answer| Nios last time exam revision books. Nios Tutor Mark Assignment is kind of home task to make assignment files. Student has to write nios tma answer which is provide by the Nios Board and submit it at his study or regional centre. Nios Assignment contain 20% marks of theory papers.
Download Nios Assignment Answer 100% for 10th & 12th Class All Subject April Exam/October Examination 2024

Ready To Submit

.
Here is a list of NIOS 10th and NIOS 12th class assignment answer 2023-24 is available and 2024-2025 assignment solution available soon, all nios assignment is in Hindi, English, Urdu, Sanskrit & Bengali medium students.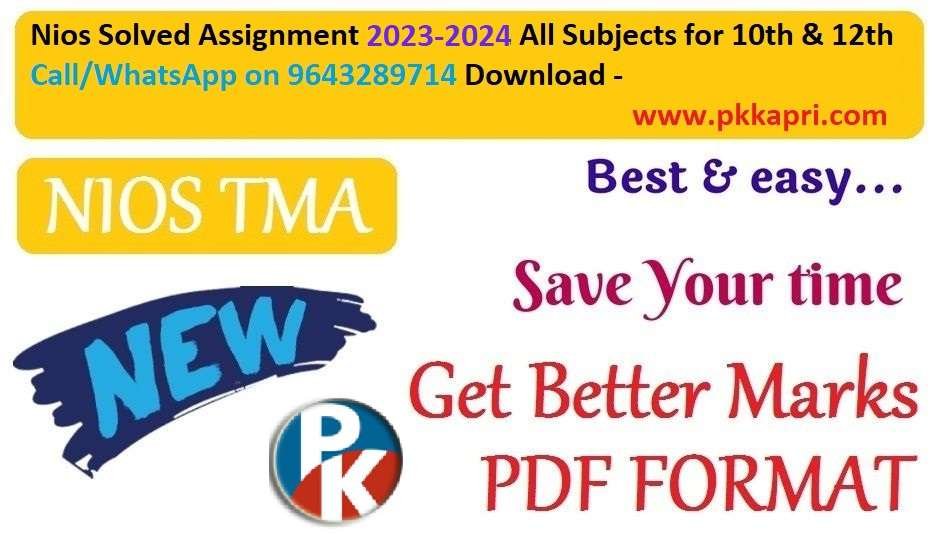 NIOS 10TH TUTOR MARKED ASSIGNMENT IN PDF (2023-2024)
NIOS 12TH TUTOR MARKED ASSIGNMENT IN PDF (2023-2024)
(BUY 5 GET 5 ) DOWNLOAD NIOS SOLVED TUTOR MARKED ASSIGNMENTS 5 SUBJECTS AND GET FREE 5 NIOS EXAM REVISION BOOKS (OPEN 20 PLUS) ONLY ON OFFER PRODUCTS (2023-24) FOR APRIL & OCTOBER 2024 EXAM
Nios Tutor Marked Assignments Download Senior Secondary (12th) & Secondary (10th) Course 2023-2024 Online Nios Solved Assignment From Below Links for April/October Exam 2024 in (Hindi or English Medium)
Important Information
Frequently Asked Questions About >>

Nios TMA (Tutor Marks Assignment)

(1) What is NIOS Tutor Marked Assignment?

Ans. The Tutor Marked Assignment (TMA) is NIOS assignments to be submitted by the course enrolled in class 10 or class 12 levels. For each subject selected by the students. Students are required to complete all the assignments and submit to the allotted Accredited Institute (AI) for evaluation.

(2) Is it compulsory to do TMA?

Ans. Yes, TMA is an important part of 'continuous and comprehensive evaluation' and hence it is advised to treat it 'compulsory' as a learning exercise. However, a candidate may be allowed to appear in the external examination even if he/she could not submit the TMA in a subject. The learner shall be awarded 'zero' mark for 'TMA' part of internal assessment.

(3) Is submission of TMA applicable to all the learners of NIOS?

Ans: No, the TMA is only applicable for the learners admitted under Stream-I of NIOS. It is not applicable for admissions under Streams-II, III and IV On-demand exam.

(4) How is TMA helpful to a learner?

Ans: The TMA will help learners to ensure their progress and revision in studies.

(5) Can a learner apply for re-evaluation of TMA?

Ans: No. Re-evaluation of NIOS TMA is not allowed.

(6) Marks once awarded in TMA are final or not?

Ans: The data once provided by AI will be accepted as final data and can not be changed over a period of time.

(7) If a learner has submitted TMA of a specific subject but does not pass in theory what will be the final result?

Ans: Separate passing marks in theory are essential to pass the examination. In that case learner will be declared failed in the public examination.

(8) If a learner succeeds in public examination but fails in TMA, will his/her result be declared or not?

Ans: There are no minimum marks for passing in TMA. However, one has to obtain at least 33% marks in the external examination and 33% in aggregate to pass. Current information may be checked from NIOS website.

(9) Can I purchase Assignment Answer?

Ans: Yes, you can purchase assignment answer from above download links.

Instructions to Upload NIOS Tutor Marked Assignments (TMA) Assignment PDF Online

Steps–
1 – Uploading of TMA will be available only as per the TMA uploading schedule mentioned by NIOS for each session.
2 – Submitting/Uploading TMA is applicable only for the learners/students of Stream 1
3 – TMA(s) can be uploaded only for the subject for which the learner/student is registered in NIOS. TMA(s) of subjects selected for Transfer of Credit (ToC) can't be uploaded.
4 – Once the due date for submitting/uploading TMA is over, Learner/student will be able to upload the TMA only after paying the TMA late fee online through the Student Portal.
5 – Before uploading the TMA, please ensure that the correct TMA is selected for upload. TMA once submitted cannot be submitted/uploaded again.
6 – TMA status can be seen from the TMA Status on TMA Tile on the Student Dashboard
7 – There are four steps in the process of uploading the TMA(s):
Step-I – Download TMA(s)1 Nios Assignment Answer
II – Prepare hand written TMA(s) with marking each page with page number
III – Scan the hand written TMA(s) into .PDF for each subject separately
IV – Upload the TMA(s) saved into .PDF file
(Note: Each online activity of the learner/student will be tracked and monitored on the portal starting from login till logout IP address and system environment of the device/laptop/computer/mobile IMEI will be monitored for security reasons and for further analysis to improve the system.)
We are a group of professional willing to help Professional/ Academic students, who generally fighting with time to prepare for further studies. Click for Nios Solved Hand Written Assignment |Nios Class 10th Tma Solution |Nios Class 12th Tma Solution | FREE NIOS ASSIGNMENT ANSWER.
You can also Pay Via

PAYTM, GOOGLE PAY, PHONE PE

: 9643289714
Visit Our Website: //www.pkkapri.com
---
ALERT: Sharing or Distribution of this file or any portion of this file without my consent by Site/Blog Owners or Youtube Channel Owners will lead to DMCA WARNING. Your Blog/Channel will receive copyright INFRINGEMENT NOTICE.